Diploma in X-Ray Technology (DXRT)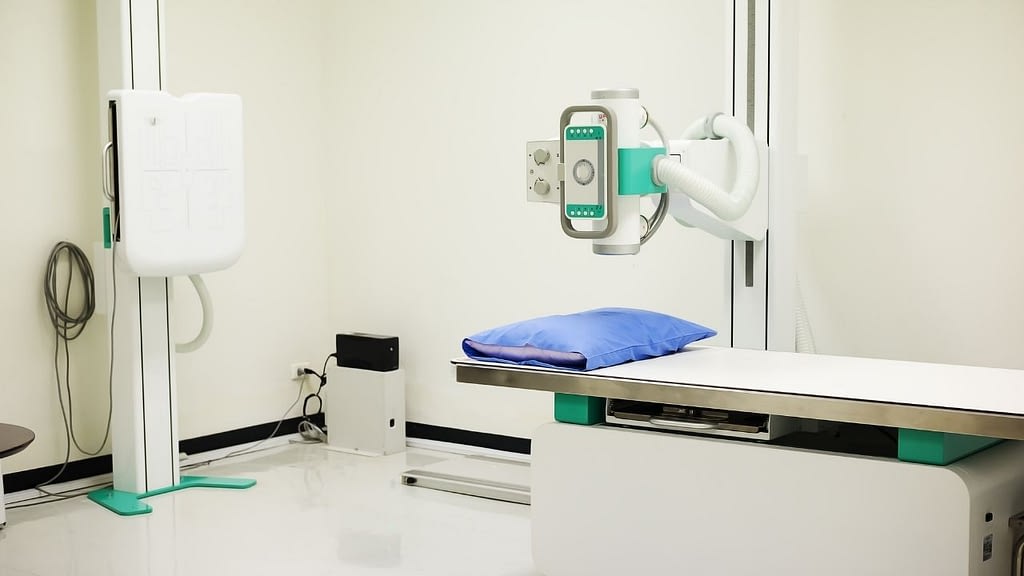 The discipline of radiology requires well-trained technicians who can provide high-quality care to patients. While performing X-ray examinations and operations, the technician is expected to not only create high-quality images but also to adhere to strict health and safety protocols. The DXRT course in Udaipur is designed with the aforementioned considerations in mind.
| | |
| --- | --- |
| Program  |  DXRT |
| Duration |  2 Years |
| Eligibility | 12th – Physics, Chemistry & Biology ( Minimum 45% ) |
| Medium | Hindi / English  |
| Job Role |   X Ray Technician |
DXRT Course in Udaipur
Paramedical courses have gained immense popularity among students from the past few years due to their high potential in future career opportunities. Since the Indian government is only striving to improve the healthcare infrastructure as part of its preventive healthcare approach, more eligible staff has been recruited for optimum quality of services in Health institutes. Amongst a range of courses under one umbrella of Paramedical Science, DXRT is the most pursued course. 
A student who has pursued a Diploma in X-Ray Technology can efficiently look for better-paying job opportunities in Medical centers and hospitals. Paramedical science has various courses that aim to make a difference in Medical Science and improve employment opportunities. 
Below are all the essential details associated with the X-Ray course in Diploma and why it is the best time to think about pursuing the course?
What is a DXRT Course?
DXRT refers to a Diploma in X-Ray technology where the students are taught every tiny aspect of an X-Ray machine for two years and how it can help detect potential illnesses. All the lab technicians inside an imaging center have relevant knowledge on how to conduct this imaging test, produce accurate results and assist doctors in diagnosing a condition such as an orthopedic problem. 
The Best Institute for DXRT Course in Udaipur teaches students beyond operating the machine and shows them how to prepare a patient before the radiography testing is conducted on an individual. It deals with a module where students learn how the electromagnetic radiation from the X-Ray machine enters inside a human body and gives a clear picture of human internals. 
A photograph is then produced and sent to the doctor, who deeply analyzes and recommends a treatment plan. Another essential factor about the Best DXRT Course in Udaipur is that it would overall educate the candidates on conducting general radiography and electrocardiograms. Hence, after completing the course, an individual becomes skilled in handling radiography equipment in laboratories. 
Relevance of DXRT Course in Udaipur and Eligibility Criteria
For the students who are still wondering why to opt for the best DXRT course in Udaipur, it is essential to note that several forces are combined to treat a patient in a hospital. To diagnose a problem, doctors recommend tests, which Lab Technicians conduct. 
These technicians are the basis of recovering a person from an illness. Unless a test is conducted correctly and reports are obtained, doctors would not be able to see through the internal mechanism of an individual's body. Besides that, the Indian governments' endeavor to move towards preventive cure includes optimally utilizing infrastructure. For this sole purpose, a workforce is being recruited that manages the laboratory equipment that eliminates curable diseases. 
With the introduction of a diploma program in X-Ray technology by the branch of Paramedical Science, students with unfulfilled dreams of pursuing MBBS can shift towards courses like a degree or diploma in X-ray or other lab technology. Moreover, after becoming an assistant X-Ray technician or Radiologist, the pay scale is very lucrative, and hence, the hard work and learning pay off. 
Eligibility Criteria
Post the competition of Intermediate level of Schooling (10+2) in science; a student can apply for the DXRT course in Udaipur since the city has some of the top institutes for Paramedical courses. However, some institutes have their entrance examinations to check students' eligibility and enroll them accordingly in the course. So make sure you read the universities' guidelines and find out the aggregate percentage to qualify as an eligible candidate for the degree/diploma program at the undergraduate level. 
The possibility of Merit-Based Admission
Not every university with a DXRT course in Udaipur has a merit-based selection; however, some universities have criteria to select students on their merit. Once the selection procedure is clear to the students, they must fill an online application based on which a list will be rolled out with the name of students called for further processes like group discussion, interviews, etc. 
What are some Job Scopes after completing a Diploma in X-Ray Technology?
After completing the diploma program in X-Ray technology lab technician, one can apply in Private and Government laboratories, hospitals, clinics, or medical centers. Here are some of the posts you can use for:
X-Ray technicians are responsible for conducting, managing and efficiently diagnosing the X-Ray reports. The role of technologists in the laboratory is well-versed with the machinery. Depending on the medical institute, one can expect a package of up to 3 lakh per annum. 
Assistant X-Ray Technologist
As an assistant X-Ray technologist, one will be able to operate the machine efficiently in a medical laboratory. The maximum pay scale goes up to 2 lakh per annum. 
An X-Ray testing technician is responsible for teaching new assistants how to use the equipment, managing the equipment effectively, evaluating and producing accurate test results that assist in diagnosing health issues. The maximum pay scale can offer you a 4 Lakh per annum package. 
Some other job roles post the completion of this diploma program would pay decently and would be just efficient in contributing to the healthcare system. 
Is there any future study scope post the completion of DXRT?
Paramedical Courses has a Diploma program for aspirants. Still, the candidate can look upto proper degree courses to continue acquiring in-depth knowledge about lab technicians and machinery used while conducting tests in laboratories, wellness centers, etc. One can dive into the Diploma program, and once they are sure about their progress, the option is to go towards more advanced studies and pursue the undergraduate level program for three years. 
So here are some of the options you can pick after completing the DXRT course:
B.Sc in medical lab Technology: It is a degree program for three years to teach everything about medical lab technology. The candidate is eligible to work in labs after the program's completion. The eligibility criteria are passing out 10+2 with 50% marks in the science stream. 
B.Sc in Radiology: Another option could be B.Sc in Radiology is one of the most preferred degree programs by students since it deals explicitly in studying equipment related to radiology. The eligibility criteria go the same as the above course. 
B.Sc in Radiography Imaging Technique: The course teaches students how to take pictures of the body's internals using various techniques to diagnose a problem correctly. The study goes on for three years, and the eligibility criteria stand the same at completing 12th with science with an aggregate of 50%. 
Many other degree courses under Paramedical Science have a more excellent prospect for students to earn well in the future. However, initially, you can go forward with DXRT, which gives you enough knowledge to get started. The tuition fee can go somewhere around 1-2 lakhs depending on the Institute or university you choose. 
When it comes to healthcare, the branch of study under the Paramedical course is impressive, to begin with, and learn in detail about laboratory testing. The opportunities can reach upto researching several types of equipment in a research laboratory for potential healthcare companies. Hence, the scope is broad.