Paramedical Science is now the most sought-after course by the students after completing their 12th. There is a reason why this particular medical field is attracting more attention; the post-pandemic world. India had a hard time coping with the aftermath of the pandemic and an almost failing health infrastructure because very minimal was available during the time of crisis. The zero-hour period pushed young blood to qualify themselves in medical sciences and look for the best Paramedical courses after 12th.
More jobs are being produced for people with the qualification of Paramedics, and the demand will only be increasing in the coming years. That's why it would be an efficient practice to analyze the list of best paramedical courses after 12th. However, before diving into these details, it is best to understand what paramedical science is all about and how it makes you amongst the qualified healthcare staff?
What are Paramedical Courses?
Paramedical science is that branch of healthcare that involves all the medical emergency services before reaching the hospital or before the doctor's arrival. There are still many students who are unaware of the fact that there is more to the team of medical professionals than registered doctors. Yes, doctors make up for an essential part of the healthcare infrastructure of any country, but several other medical professions aim to save people's lives.
A long list of Paramedical courses in Udaipur involves preparing a person to investigate a disease or manage accidents or medical emergencies. Udaipur has several best institutes and universities offering Graduate courses, Post-Graduate Courses, certification, and Diploma programs that train students to become a significant contribution to the healthcare sector in India.
Paramedic Professionals, after completing their theoretical and practical training gain the knowledge to become research assistants or technicians in laboratories. They can develop the skill to become anesthesia technicians, manage spinal injuries, or operate testing machines in pathology labs. The opportunities are Endless for anyone willing to step into the medical field beyond chasing the dream of becoming a doctor.
Best Paramedical Courses after 12th
The Paramedical courses offer different specializations based on one's area of interest and merit. One can choose to go for a certification, degree, or diploma which suits their requirement to achieve a decent paying job. So here is a list of paramedical courses offered by institutes in Udaipur:
DMLT (Diploma in Medical Laboratory Technology)
DMLT is a one to two-year diploma program that imparts skill and concept-based knowledge in students to become lab technicians in the future. This course is majorly a training in Clinical Laboratory Science which teaches students how to investigate a testing sample like tissues with the help of technology in the lab and develop reports for proper diagnosis of an illness.
This is a full-time program that is spread across 4 semesters. The DMLT course in Udaipur is perfectly designed to produce skilled experts who meticulously utilize the developing technology and become an active part of medical research that contributes to improving the healthcare workforce.
The course comes with an internship program to give experiential learning opportunities to the students. The course tuition could range between 50K to 2Lakh depending on the institute. Ayush Paramedical Institute in Udaipur is one prestigious university offering the best Advanced Diploma and Diploma program in Medical Laboratory Technology.
Eligibility: Candidates with the qualification of 10+2 with subjects Physics, Chemistry, Mathematics/Biology. The minimum percentage would vary since it is a diploma program and may or may not require an entrance test for selection.
DXRT (Diploma in X-Ray technology)
DXRT or Diploma in X-Ray Technology is another potential paramedical course for students after completing their 12th. This is another popular full-time 2-year diploma program offering many job opportunities. DXRT course in Udaipur has 4 semesters, which is an amalgamation of theoretical coursework, lab work, clinical knowledge imparting about X-Ray machines, and radiology.
At the end of the course, the students have sufficient knowledge about operating imaging machines and developing X-Ray reports with the help of observation of the data. These students are ready to become X-Ray technologists in Radiology or medical labs visualizing the internal human structure and helping doctors treat an ailment. The course tuition range between 1-2 lakhs.
Eligibility: Students are required to pass their immediate (12th examination) with an aggregate of 45%. However, reserved category students get a 5% relaxation in the aggregate percentage to enroll in the course.
B.Sc MLT (B.Sc in Medical Laboratory Technology)
Bachelor in Science, a well-known undergraduate level full-time course in India, also offers students the option to choose a paramedical course in Medical Lab Technology. It is a complete 3-year undergraduate level program with 6 semesters spread out equally.
B.Sc MLT course in Udaipur offers theory and practical knowledge to the students who learn to use technology in the labs to evaluate human body fluid samples and help diagnose diseases. Instead of completing a diploma program, students here complete a degree program with in-depth knowledge of medical laboratory equipment and how to utilize them for eradicating diseases.
After the end of the course, students become professional lab technicians evaluating test results and report them to the concerned doctor or become part of a research organization that conducts clinical trials and requires efficient lab technicians. The tuition stands somewhere near 4 lakhs for the entire course duration.
Eligibility: A student must pass their 12th examination with Physics, Chemistry, Mathematics/Science, and the aggregate passing percentage must be 50%.
M.Sc MLT (M.Sc in Medical Laboratory Technology)
After completing B.Sc in MLT, students who are willing to study further and acquire more knowledge to grab better job opportunities choose the M.Sc MLT course in Udaipur. It is a post-graduate level degree program in Medical Laboratory Technology and is feasible for students who want to shift to the medical side of science. It is a full-time degree program for 2 years.
The post-graduate program gives a thorough understanding of medical laboratory management. They enhance the students' general knowledge about the various laboratory equipment, their use, and how to read and develop accurate test results for assisting doctors in providing effective treatment plans. The course tuition ranges between 2-3 Lakhs.
Eligibility: Students must have a B.Sc degree with 55% aggregate marks.
B.Sc. RT (B.Sc in Radiation Technology)
The B.SC RT course in Udaipur is an undergraduate level program spread out in a 3-year curriculum. It teaches the students to use instruments associated with Radiation technology which means working with medical equipment like X-Ray or anything else which employs radiation or sound waves to get visual images of the inside of the human body.
Students learn to work with CT Scan machines, Ultrasonography, MRI, etc. All this equipment help analyze the problem inside a person and bring out the precise diagnosis. The program tuition would cost around 1 lakh.
Eligibility: Students must have qualified for their 12th examination with a minimum of 45% aggregate. However, certain universities might have the criteria to conduct their own entrance examinations.
M.Sc. RT (M.Sc in Radiation Technology)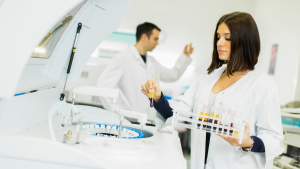 M.Sc in Radiation Technology is a 2 year Post graduate-level program giving further knowledge on dealing with Radio technology to identify diseases and eliminate them through radiation machines. The M.Sc RT course in Udaipur makes a student eligible to understand all the functionality of these radiation tech machines to contribute to medical labs and improve the healthcare system in India. The course tuition is around 50,000 -1 lakh approx.
Eligibility: Any B.Sc graduate with 55% aggregate marks can pursue this course. However, B.Sc in Medical Science students benefit a lot.
There is a list of many other paramedical courses, such as Bachelor in Physiotherapy, B.Sc in Operation Theatre Technology, Diploma in Occupational Therapy, etc., that produce several jobs each year in India. Candidates can take advantage by enrolling in these courses from reputed institutes in Udaipur and get recruited immediately after completion of the degree.
Follow Us on Facebook – @ayushgroupofeducation